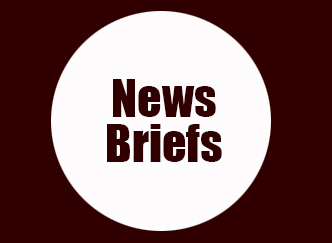 TRUMP TO MAKE MAJOR CUTS TO INDIAN COUNTRY
WASHINGTON, DC – In his very first budget blueprint, Trump seeks a 12 percent cut at the Department of the Interior and a 17.9 percent cut at the Department of Health and Human Services. While the 62-page document is just a proposal – it's up to Congress to appropriate the money – it spells major trouble for the Bureau of Indian Affairs and the Indian Health Service, which have historically been underfunded.
The blueprint does not offer specifics on the amount of funding that Trump is seeking for the BIA. Details aren't expected to be sent to Capitol Hill for another month or two.
Between 2009 and 2016, the IHS budget grew by nearly 50 percent but officials and tribal leaders acknowledged even that wasn't enough to meet the need.
OSAGE PASS REFERENDUM TO LEGALIZE SAME-SEX MARRIAGE
OKLAHOMA, OK – Voters of the Oklahoma-based tribe approved a referendum in March that defines marriages as a union between "two persons." Tribal law previously restricted marriages to a "man and a woman." The referendum passed by a vote of 1,208 to 252.
The U.S. Supreme Court in 2015 issued a decision in Obergefell v. Hodges that requires all states to legalize same-sex marriages and to recognize same-sex marriages performed in other states. The 2013 ruling in U.S. v. Windsor required the federal government to recognize all marriages.
Neither ruling, however, applies to tribal governments and several tribes in Oklahoma outlaw same-sex marriages.
TRIBE SUES GOVERNMENT OVER ENDING COAL MORATORIUM
WASHINGTON, DC – A Native American tribe in Montana and a coalition of conservation groups sued the Trump administration in late March for lifting a moratorium on coal leases on public land without consulting tribal leaders and con-ducting a full environmental review.
The Northern Cheyenne Tribe in southern Montana said the administration had lifted the moratorium without hearing the tribe's concerns about the coal-leasing pro-gram's impact on its members and lands.
The tribe sent a letter earlier this month to Interior Secretary Ryan Zinke requesting a meeting to discuss the issue. Zinke did not respond, and signed the order lifting the moratorium.
Killsback said the tribe, which filed the lawsuit in U.S. District Court in Great Falls, would be harmed by lifting the ban.
About 426 million tons of federal coal are located near the Northern Cheyenne Reservation at the Decker and Spring Creek mines in Montana, the tribe said.
Legal group Earthjustice argued that lifting the coal moratorium imperils public health for the benefit of coal companies.
JUDGE ORDERS REMOVAL OF GAS PIPELINE ON INDIAN LAND
OKLAHOMA, OK – – An energy company has been ordered to remove a natural gas pipeline from an Indian allotment in Oklahoma after failing to secure consent from the landowners for nearly two decades.
The owners of the 137-acre parcel agreed to a 20-year easement for the pipeline back in 1980. They were paid $1,925 for the right-of-way on a 0.73-acre portion of their property.
After the easement expired in 2000, they were offered $3,080 for another 20-year leas. But a majority of the allotment's owners never agreed to the proposed amount.
Despite the lack of consent, a firm named Enogex continued to operate the pipeline. The trespass continued even after the Bureau of Indian Affairs in 2010 told the company to reach an agreement or stop using the land.
Seventeen years after the original easement expired, Judge Vicki Miles-LaGrange confirmed that the pipeline has been in trespass on the allotment. She ordered Enable Midstream Partners, which took over operations after Enogex, to remove the pipeline within six months.
Most of the plaintiffs are citizens of the Kiowa Tribe, the Comanche Tribe and the Apache Tribe. The landowners now expect to return to court to obtain damages for the trespass of their property.
"This decision marks a significant victory for Native American land rights," the Kilpatrick Townsend firm.
NATIVE LAWMAKER RESIGNS AMID CHILD PROSTITUTION CHARGES
OKLAHOMA CITY, OK – A Native lawmaker who has been charged for child prostitution resigned from the Oklahoma Legislature in March.
Former Republican Sen. Ralph Shortey (Rosebud Sioux) was found in a motel on March 9 with a 17-year-old male. He is being charged with engaging in child prostitution, engaging in prostitution within 1,000 feet of a church and transporting a minor for prostitution.
Shortey, 35, was first elected to the state Senate in 2010.
COLLEGE SCHOLARSHIP PROGRAM HAS 85% COMPLETION RATE
ALBUQUERQUE, NM – Catching the Dream, a national scholarship program for Native American college students, announced that its completion rate after 30 years is 85.1%.
"Our scholarship program has one of the highest graduation rates ever achieved with Indian students," reported the President, Gov. James Lujan (Taos Pueblo). "We have produced 891 graduates out of 1,265 students we have funded. We have 186 students on scholarship this year. Only 188 of our 1,265 students have dropped out," he added.
"We have produced 52 medical doctors, 157 business graduates, 123 educators, 28 engineers, and 120 scientists," he added. "We have also helped to develop 40 Exemplary Programs in Indian Education."
Students from any federally recognized tribe, terminated tribe, or state recognized tribe are eligible to apply for the CTD scholarship program. The scholarships are for life; students never have to apply again. The CTD website is www.catchingthedream.org.