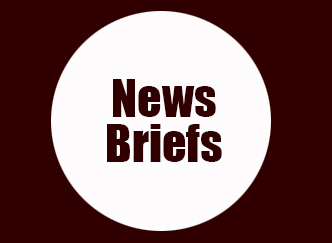 Rice becomes first tribal police chief on POST Board
Gov. Mark Dayton has appointed Mille Lacs Band Police Chief Sara Rice to the Minnesota Board of Peace Officer Standards and Training, or POST Board. An enrolled member of the Mille Lacs Band of Ojibwe, Rice is the first tribal police chief to serve on the POST Board.
Rice joined the Mille Lacs Band Police Department in 2001, serving as a police officer and conservation officer prior to being named interim police chief in 2016. Mille Lacs Band Chief Executive Melanie Benjamin announced Rice's permanent appointment as chief of police.
Rice has been actively involved in the band's negotiations with Mille Lacs County over a new law enforcement agreement, in strengthening the band's law enforcement agreement with Pine County and in securing federal and state law enforcement support on the Mille Lacs Reservation.
"I would like to thank Gov. Mark Dayton for appointing me to the Minnesota POST Board," Rice stated in the release. "It's an honor to have the opportunity to serve the law enforcement community in this capacity."
POST is responsible for licensing more than 10,500 active peace officers and more than 250 active part-time peace officers. The POST Board has the legislative authority to adopt administrative rules with force and effect of law, rules enabling the board to establish policies and standards to which all licensees must adhere.
Rice has lived her entire life on the Mille Lacs Reservation. She attended Onamia High School, received her law enforcement degree from Central Lakes College, and earned a bachelor's degree in organizational behavior from the College of St. Scholastica.
She leads a full-time police department of 23 full-time, POST-certified officers dating back to 1984. The Mille Lacs Band Police Department has law enforcement authority under federal, state and tribal law.
Rep. Becker-Finn honored for legislative leadership
Rep. Jamie Becker-Finn (DFL-Roseville) has been honored by the Sierra Club North Star Chapter with their 2017 Legislative Leadership Award. This Sierra Club award is given each year to those legislators who have demonstrated leadership in protecting and defending Minnesota's environment.
"Serving in the legislature isn't just about representing the immediate needs of my community, it's also about ensuring everyone in every part of Minnesota has clean air, clean water, and public lands free of pollution. It's incumbent upon all of us to stand up and be the voices for those who cannot speak, including future generations."
In accepting the award, Rep. Becker-Finn (Leech Lake Ojibwe) pledged to continue her commitment to the environment in the legislature and through her personal conservation and actions.
Leech Lake Tribal College Receives $100,000 AICF Grant
Leech Lake Tribal College has been awarded $100,000 from the American Indian College Fund (AICF) Scholarly Emergence for Environmental Design and Stewardship (SEEDS) program. The grant will help increase capacity to prepare students for environmental careers, and to inspire community engagement with environmental issues in the Leech Lake area. The SEEDS program at LLTC will be led by Vikki Howard, Dean of Academics and faculty member Melinda Neville.
"With this support from AICF, we can strengthen and refocus our efforts at building environmental awareness about climate change and other challenges in our communities," said Vikki Howard. The grant will assist faculty earning their advanced degrees, integrating Traditional Ecological Knowledge in STEM curricula, and redevelopment within math and forestry curricula. Additionally, the AICF grant will fund LLTC's summer internship program, supporting students and faculty engaged in place-based environmental research.
To learn more about opportunities to support the Leech Lake Tribal College and its mission to provide accredited education grounded in Anishinaabe values, please contact Ryan White at (218) 335-4229 or ryan.white@lltc.edu or by visiting their website at www.lltc.edu.
Rosy Simas awarded Joyce Foundation grant
The Ordway Center for the Performing Arts will commission Rosy Simas (Seneca, Heron Clan) to create "Weave" an intersectional Native dance project that examines the interwoven and interdependent nature of the world.
The Joyce Awards marks the Joyce Foundation's 15th year offering the prize. Started in 2003, the Joyce Awards is the only regional program dedicated to sup-porting artists of color in major Great Lakes cities with the goal of elevating their visibility and recognition in their craft. A distinctive feature of the Joyce Awards is the call for commissioned artists and their host institutions to include a robust community engagement plan as a main component of their projects. Simas will engage in community forums, workshops, panel discussions, and one-on-one conversations to create her production.
The $50,000 award is used towards supporting the artist in the creation and production of a new work and providing the commissioning organization with the resources needed to engage potential audiences, new partners, and their surrounding communities at large.
Rosy Simas is a designer and director of dance, a solo and collaborative performer, and a multidisciplinary teacher, curator and mentor of diverse artists. A Native feminist, Simas critically centers Native cultural/political persistence while engaging a range of political, social, cultural and personal subjects.
Historical and Cultural Grants Awarded 
The Minnesota Historical Society announced the newest recipients of 46 historical and cultural heritage large grants ($10,001 and up) in 27 counties, totaling$3,297,352 for FY2018. The grants, awarded once each fiscal year, are made possible by the Arts and Cultural Heritage Fund of the Clean Water, Land and Legacy Amendment.
Below are the Native American organizations or programs that received grants:
Regents of the University of Minnesota (American Indian Learning Resource Center –Duluth), $85,605 for "Gah-bay-bi-nayss: A Dream Fulfilled". Funds will be used to hire qualified professionals to publish a book on the history of Ojibwe people in Minnesota.
Regents of the University of Minnesota (American Indian Studies), Minneapolis, $48,675 for Restoring Minnesota Ojibwe Language Resources: The Phonetic Texts of William Jones and J.P.B. de Josselin de Jong. Funds will be used to hire qualified professionals to produce materials on the Ojibwe language for public access.
Minnesota Book Awards finalists announced
Friends of the St. Paul Public Library annouced the 30th Annual Minnesota Book Awards finalists. Four Native American writers were among the names. Award winners will be announced at the Minnesota Book Awards ceremony on April 21 at the InterContinental Hotel Saint Paul Riverfront.
In the Novel & Short Story category is "Future Home of the Living God" by Louise Erdrich (HarperCollins Publishers) and "Stories for a Lost Child" by Carter Meland (Michigan State University Press).
And in the Poetry category is "Curator of Ephemera at the New Museum for Archaic Media" by Heid E. Erdrich (Michigan State University Press).
In the Memoir and Creative Nonfiction category is "Onigamiising: Seasons of an Ojibwe Year" by Linda LeGarde Grover (University of Minnesota Press).