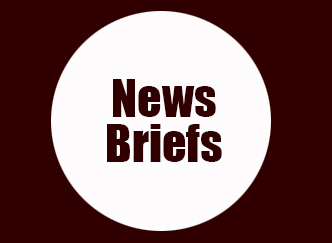 Water Protectors Keep Up Pressure on Line 3 Funders in Duluth
(Duluth, MN) On March 31st, Water Protectors marched through downtown Duluth to call out Wells Fargo's investments in Enbridge's Line 3 pipeline. Two people chained themselves to the front doors of the bank, shutting down the branch for nearly an hour. This is the second protest at this location, as opponents of the Line 3 pipeline escalate their opposition to the project's financiers.
Protestors aim to challenge Wells Fargo's investments in fossil fuel infrastructure, particularly the Line 3 pipeline. A report published in late March by dozens of environmental nonprofits and research organizations identified Wells Fargo as the third greatest funder of fossil fuels among all banks. The movement to stop Line 3 is joined by organizations around the world in calling on banks and other financial entities to #DefundLine3 and all fossil fuel infrastructure.
Alex Golden-Wolf, a two-spirit Aninshinaabe water protector, shared why they joined the rally: "I am marching today because I want my fellow neighbors of Minnesota to know the environmental impact that this pipeline will have on them."
This protest connecting fossil fuel investments to the Line 3 tar sands pipeline is yet another event in the growing movement resisting the pipeline. Since the Canadian energy transfer company Enbridge proposed the project in 2014, Indigenous communities and environmental organizations across Minnesota have resisted its permitting and construction. Although ongoing legal appeals have yet to be finalized in court, Enbridge was allowed to begin construction of the pipeline across Northern Minnesota in December of 2020. The movement is growing in numbers, and Indigenous-led direct action on the frontlines has delayed construction every week since it began.
Native American passed over in election for
UMN Board of Regents
D. Brandon Alkire, a St. Paul attorney and a citizen of the Standing Rock Sioux Nation, was passed over in March when the Minnesota Legislature elected new members to six-year terms on the University of Minnesota Board of Regents. If elected, Alkire would have become the first Native member on the Regents governing board in the university's 170-year history that dates back to 1851 in pre-statehood days.
James Farmsworth, a current senior at the university and past business association executive in St. Paul, was elected to represent Minnesota's Fourth Congressional District on the board, one of four new Regents elected in voting by both the Minnesota Senate and House of Representatives. Also elected were Kodi Verhalen, an Elk River attorney; Ruth Johnson, a Mayo Clinic doctor from Rochester; and Doug Huebsch, a Perham farmer and past alumni association leader. That election raises the number of women serving on the 12-member board from three to five.
The university is required to have an American Indian Advisory Board in place to advise the institution under both federal and state statutes. But the absence of such a board means the university has been out of compliance with the laws for the past 20 years.
COVID-19 Vaccine Info
(Minneapolis, MN) As of early February, more than 46 million doses have been given to people in the US. As more people get vaccinated, the disease will begin to go away.
Even though scientists were able to produce a vaccine quickly, the COVID-19 vaccines were carefully tested before they could be used. With extra funding from the federal government, the process from testing the vaccines to making the vaccines was able to happen faster and more efficiently.
A vaccine can be used only if the studies show that the vaccine is safe and works. Not only are the COVID-19 vaccines safe, but they work. The COVID-19 vaccines are very good at protecting people from getting sick from COVID-19. And even if someone who is vaccinated does get sick with COVID-19 disease, the vaccines prevent severe disease and hospitalizations most of the time. Because the vaccines do not work 100% of the time, it is important to keep wearing a mask, staying 6 feet from others, and washing your hands often until many more people are vaccinated.
The COVID-19 vaccine is free to everyone; insurance and immigration status do not matter.
Everyone will have an opportunity to get vaccinated, it will just take time. Vaccines are constantly being made and distributed, and there will start to be more vaccine available to Minnesotans later this spring. Continue to tune into your local news source, and follow the Minnesota Department of Health's social media. These will be good sources of information when there are COVID-19 vaccine updates.
Find resources and answers to common concerns and questions at: (https://www.health.state.mn.us/diseases/coronavirus/vaccine/basics.html).
Learn who is eligible to get vaccinated at Who's Getting Vaccinated at https://mn.gov/covid19/vaccine/ whos-getting-vaccinated/index.jsp). You can find where to get vaccinated at Find My Vaccine (https://mn.gov/covid19/vaccine/find-vaccine/index.jsp).
Learn more about how the COVID-19 vaccines were made at How COVID-19 Vaccines Are Made (https://www.health.state.mn.us/diseases/coronavirus/vaxprocess.pdf).